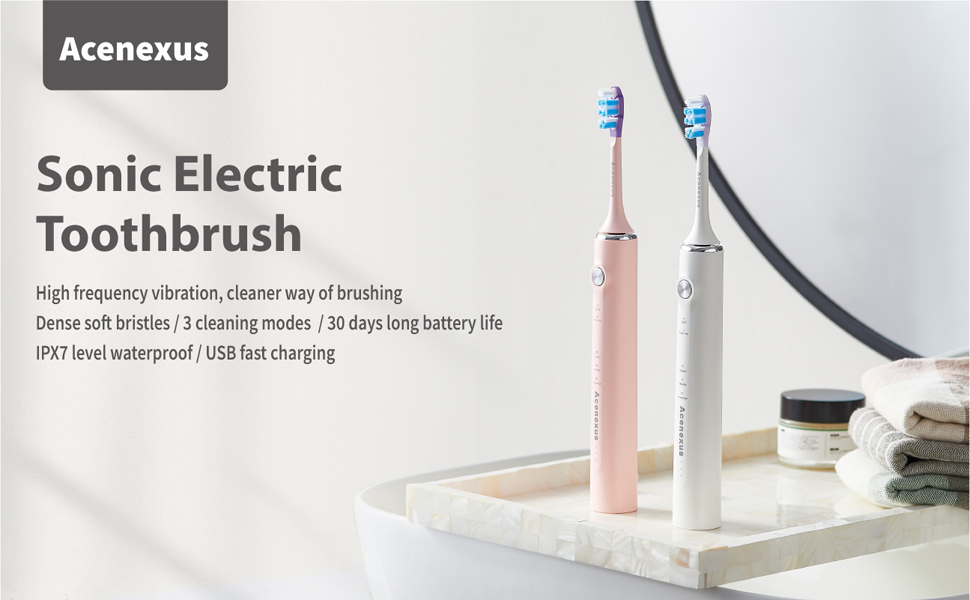 Premium Electric Tooth Brush
Acenexus best electric toothbrush for adults , focus on quality, is your ideal choice from manual to electric.Pursuing stylish design and high functionality, the toothbrush electric realizes our best oral care products,our sonic electric toothbrush uses efficient, high-frequency sonic technology to ensure both toothpaste and oxygen are delivered to even the most inaccessible parts of the mouth, remove plaque and stains on every pat of each teeth thoroughly.
Electric Toothbrush Personalized Mode
Sonic care electric toothbrushes for adults allows you to customize your brushing with 3 cleaning modes and 2 intensities,suitable for different gum conditions, you can choose different modes according to your preference and dentist's recommendation. Clean: Solve daily oral problems. White: Improve the overall brightness of your teeth. Massage: Pulsating vibrations relax your mouth with a hydrotherapy massage.
Rechargeable Toothbrush
30-day battery life (fully charged), our electric toothbrush set and interchangeable brush heads have been clinically tested many times ,rechargeable toothbrushes for adults always ensure the most effective and gentle cleaning, allowing you to experience the unique and high quality of Acenexus travel electric toothbrush.
Electric Toothbrush Timer
Smart toothbrush has a two-minute timer, this will help ensure that you brush long enough to maintain good oral health and remove all tartar buildup and plaque.Equipped with an advanced sonic vibration motor, the ACENEXUS sonic electric toothbrush for adults removes up to 10 times more plaque and reduces gum bleeding by up to 3 times more than a manual toothbrush. Electric brush teeth gives you a more comfortable brushing experience.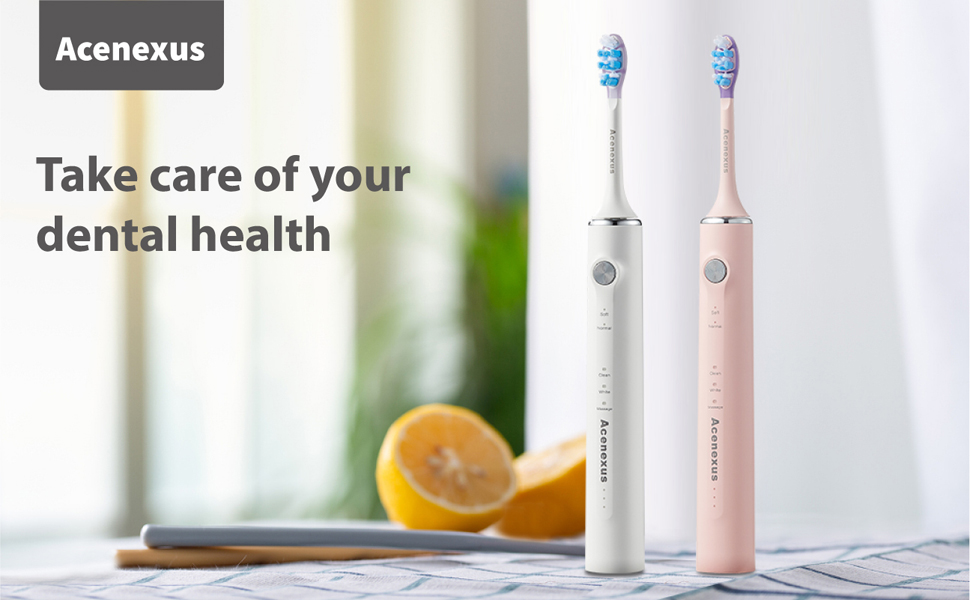 IPX7 Waterproof Silent Soft Electric Toothbrush IPX7 waterproof design, safe to use in the shower or bath. The unparalleled noise reduction technology of the electric toothbrushes for adults reduces the amplitude of toothbrush shake and reduces the noise generated to the smallest decibel that humans can hear - less than 45 decibels.The soft electric toothbrush does not interfere with the work and daily life of others, and it always creates a quiet atmosphere when brushing your teeth.